Charlie de Haas is an entrepreneur and Sydney success story! Founder of The Clean Treats Co. and new nutritionally effective products Get NKED, you can't help but smile when Charlie enters the room - she just has that glow! A glow that we have now discovered starts from the inside. Glowing from the inside out… we'll have what she's having!
Charlie is passionate about bringing plant-based and gluten-free beauty and health products to Australians, helping us to love ourselves from the inside out. With a range including protein-based treats, supplements for gut health and antioxidant-rich beauty boosts, Get NKED makes it easier than ever to feel confident in your skin.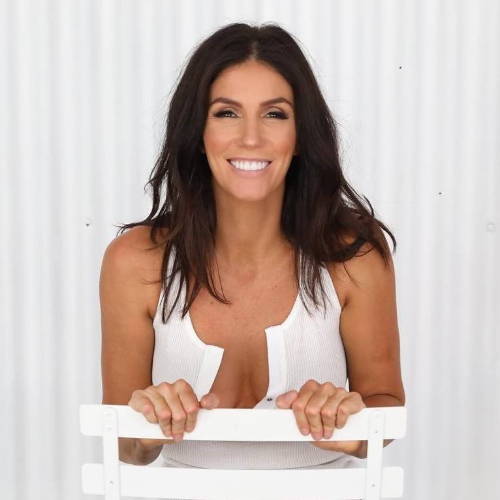 How do you introduce yourself to someone who doesn't know you?
A passionate dreamer. Spiritual, plant lover, book nerd, healthy with a dash of weekend wine and good times. Marathon runner, wannabe yogi.
I believe in the beauty of my dreams and the power of our minds to create the world we live in. I'd like to say no one could outwork me in a room (a belief I have [sic] grown up with - work hard and you can have and be all that you want to be), and that we can manifest our dream reality.
What is beauty to you?
Beauty is being able to step into the world and be you. It is acknowledging your unique gifts, accepting your flaws as your perfect gifts and being comfortable to share love and compassion to others. Beauty always comes from within.
Why Get NKED? What products do you use?
Get NKED was designed as I saw [sic] a trend in the market focusing on inner health. People are starting to become aware that our internal health matters and what the miracles of eating plant-based and nutrient dense food can make.
I'm currently using both the Inner Health/gut and Inner Health/beauty products. The silly season got the best of me and I need to rebalance my digestive system. I am working on 'prevention is better than cure'. I also have rosacea skin which needs a lot of TLC.
"Self-love is the first love, you are your #1 priority"
If you could only eat one thing for the rest of your life, what would it be?
My mum's Lasagne with garlic bread, salad and a glass of merlot!
What advice would you give anyone who wants to look after their body from within?
Look at food as a way to nourish your body... You really are what you eat. If you want to feel good, start from the inside out. Your body holds great wisdom if you just learn to check in and ask. Did you get enough sleep? Did you drink too much wine? Did you eat too much sugar? Be [sic] accountable for your actions and choose [sic] food as a way to show self-love to yourself.
Practice a love for a good self-mindset by looking into the mirror and saying I love you until you feel this. When you genuinely care about yourself, you will make better choices for your body and life. Be your own best friend, not your own worst enemy.
What would be your go-to accessory when you want to feel that little bit extra?
Anything with some extra bling or jewels. A statement neckpiece for sure!
Favourite bag shape for every day? Favourite bag shape for a night out with the girls?
I'm the oversized bag queen... It needs to fit my journal, makeup (as the days can be long!), snacks and laptop.
For a night out, I can never go past a clutch. Particularly, an oversized one with lots of detail.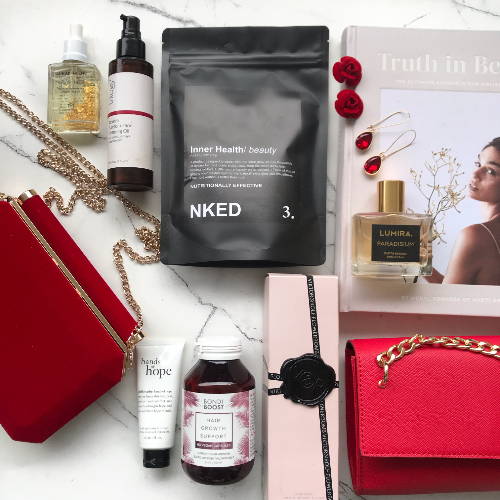 Social media has played a strong part in your success. What do you love about social media?
Social media offers us the chance to support people we love, as we get to vote with our like's and comments. It offers us the chance to choose the world we live in - we can curate the images by simply following or unfollowing different accounts.
As a business, it allows us direct access to our customers. We can connect and ask them what they like and want. This allows us to stay on point and relevant.
"Beauty always comes from within"
What five words of advice would you give the Charlie from five years ago?
1. Learn to take time with decisions, the time to check in with YOU, recalibrate all areas of life.
2. Don't respond to an email, text or call from anger - wait 24 hours.
3. Most things aren't personal, try not to get caught up in that.
4. Know that it is ok to ask for help and make a plan.
5. Self-love is the first love, you are your #1 priority.

Want to look and feel great inside and out like Charlie? Get 20% off at https://getnked.com/. Just enter the promotional code 'COLETTE' at checkout*.
*For AU and NZ customers only.