The life of a mum is a busy one, which is why you might find yourself wondering what to pack in your nappy bag to help you stay organised. Whether you're packing for a day out with your little one, or just want to be prepared while you're on-the-go, we have you covered.
Knowing exactly what items you need for your new baby can make all the difference when packing a baby bag. We understand how demanding a new baby can be, so being prepared for any situation that may arise when you're out and about is crucial. We've done the hard work for you and put together a list of nappy bag must-haves, to ensure you're always well-stocked and ready for anything.
Nappies & Disposable Nappy Bags
Sounds obvious, right? The thing is, you'll never know exactly when you're going to need them. It's always a good idea to throw in an extra one or two for safe measure so you're always prepared when you're on-the-go.
Another must-have are disposable nappy bags or wet bags. Not only are they great for wet clothes, but are also extremely handy when you're nowhere near a bin or are in a rush. Believe us when we say you won't regret having these in your nappy bag!
Baby Wipes
Baby wipes are your ultimate nappy bag essential! Perfect for cleaning any mess or mishap, baby wipes will be your go-to whenever you venture out with your little one. Whether it's cleaning your bub's bottom, sticky little mitts or spot cleaning clothes or upholstery, you'll always be glad you have this staple stocked and ready for anything.
Change of Clothes
When packing a baby bag, it's a good idea to pack not only a spare change of clothes for your baby but for yourself as well. You never know when an accident might happen, so being prepared with spare clothes is always going to be a good thing.
Change Mat
You never know when you're little bub will need to be changed, which is why a change mat is a staple on the nappy bag checklist to ensure you're ready any time, anywhere. Public change tables can also be pretty gross, so a change mat is definitely something you should carry with you. You'll find that lot's of nappy bags come with a change mat like our Black & Rose Gold Baby Bag.
Dummies or Soothers
Baby bags are designed with oodles of pockets and compartments to hold all the little bits and pieces such as your bub's favourite dummy, blanket or toy that they just can't live without. Soothers are great for longer outings - just make sure you have a spare dummy handy in case one goes missing.
Creams, Lotions & Sanitiser    
Nappy cream, hand sanitiser and sunscreen really are baby bag essentials. Carrying around travel-sized bottles will not only take up little room in your bag, but we're sure will be used very regularly. And believe us when we say that life as a busy mum will require a lot of sanitiser.
Muslin Wrap
When packing a nappy bag make sure to always throw in a blanket or muslin cloth. Truly one of the most versatile items on your checklist, a muslin wrap can be used to swaddle, as a change mat, feeding cover or as a cover for when your bub is sleeping in their pram.
Bottle, Formula & Snacks
Whether you prefer to bring a pre-made bottle with you or choose to make it up as you go, adding a bottle and formula to your baby nappy bag is a must. Adding in some snacks such as a banana can also be extremely handy when you or your little one becomes peckish. Carry-all bags are perfect for storing containers and bottles, as the pockets and ample space is a convenient and functional storage option when you're on the go.
Bib
Bibs will feel like a godsend, particularly in the early months. Whether your baby is learning to eat or likes a little dribble, you'll be glad you have a bib on-hand.
Now that you know exactly what to pack in your baby bag, don't forget to restock when you get home so you're ready for the next outing! And if you're still searching for the ultimate carry-all, start ticking off your baby bag checklist now with our new season baby bag backpack from colette by colette hayman.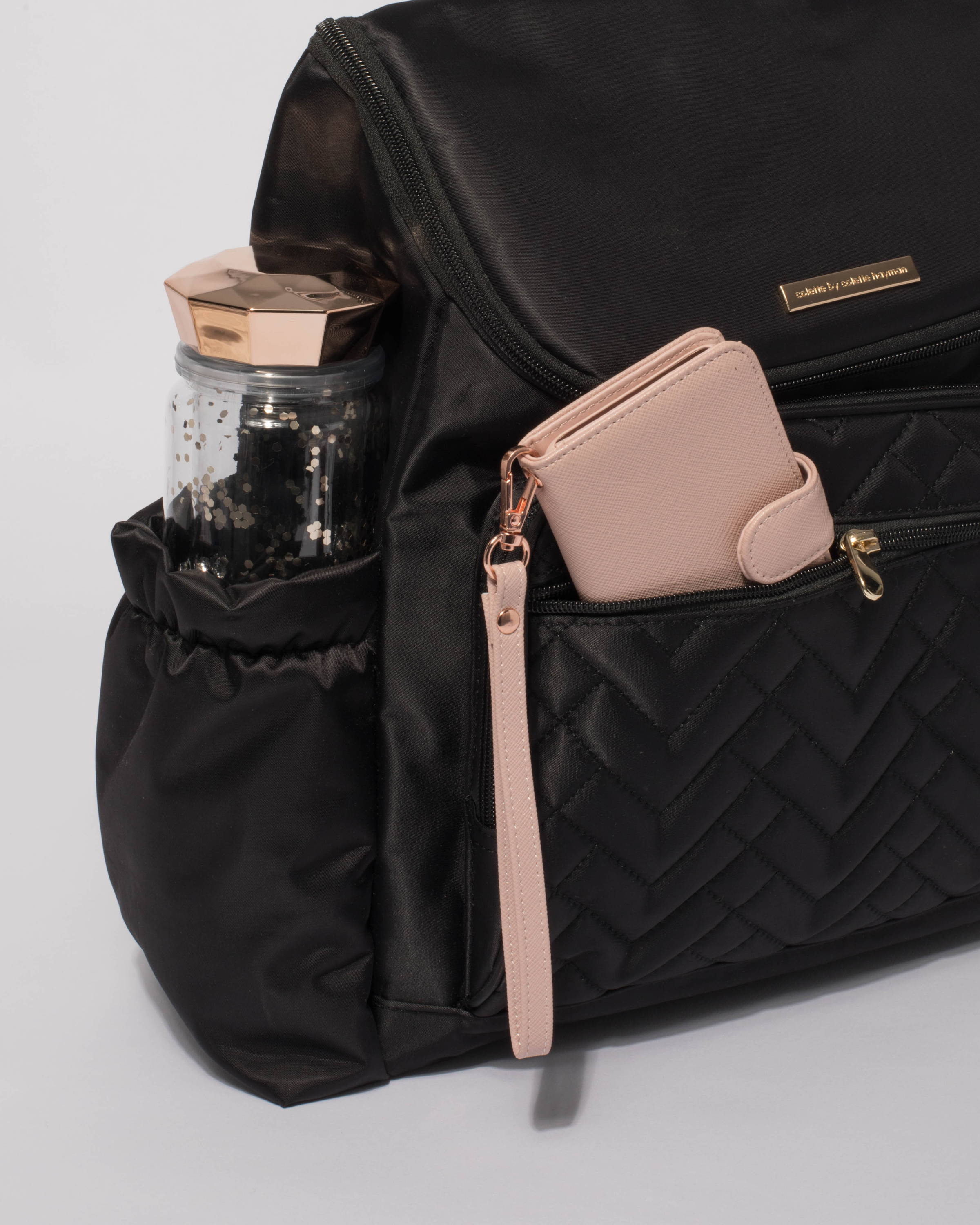 With a focus on unbeatable functionality, our nappy backpack offers practicality and fashion-forward style. With an abundance of internal and external pockets in every size, you'll always be able to find exactly what you're looking for. We've even added in four insulated pockets to help keep bottles nice and cool all day long - even on those hot days spent running around with your bub.
Our baby travel backpack has been designed with the Colette mum in mind. With ergonomic, padded straps, you'll be just as comfortable when you get home as you were when you left the house. Perfect for those never-ending days on your feet, our nappy bag backpack ensures you can spend the day hands-free so you can focus on your little one. The backpack straps also include a handy external clip so you can easily attach keys, toys or anything else that needs to be easily accessible.
The colette by colette hayman baby travel backpack features a stylish and modern design so you can stay on-trend even when you're on-the-go. With multiple storage compartments and ample room for everything else, you won't have to worry about having to leave something behind again. We've even included a baby change mat with its own storage pocket so you'll always be prepared when accidents happen. And believe us, they will happen, which is why our baby backpack is super easy to clean. And the best thing, pair your baby bag with a stylish phone case and remain ever-stylish.
Shop our baby travel backpack here, or browse our range of nappy bags for the perfect and essential baby accessory and get 25% of ALL Baby Bags* for a limited time only!
*Promotion ends 11/03/2019 at 9 am. Until stocks last. Not in conjunction with any other offer.